Yogasu Fitness
OWNING IT: WELLBEING
E-commerce / Product Photography / Content Writing / Logo Design / Website Design & Development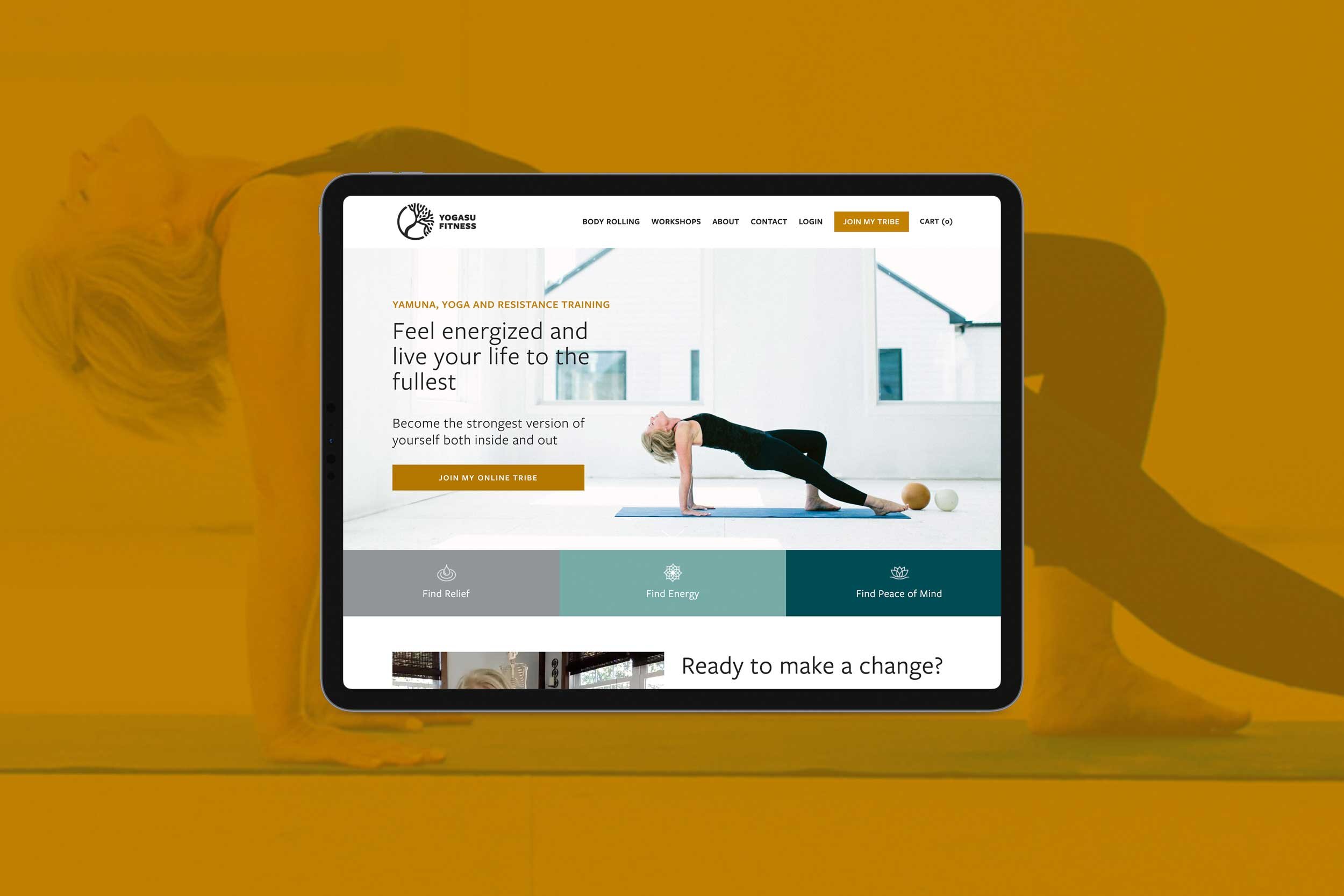 Becoming the strongest version of yourself.
概述
Sue Hynes, founder of Yogasu Fitness, is a certified yoga, Yamuna ball rolling, and foot fitness teacher with an expertise in healing the body, getting in shape, and helping others do the same. We worked with Sue to build a professional brand and website to position her as an authority and to grow her online tribe and workshop services.
Yogasu Fitness had an outdated website that poorly showcased her expertise and home-based yoga studio.
Due to COVID 19, Sue needed to pivot her in-person classes to online and quickly realized this would be the perfect time to finally realize her goal of getting online professionally to tell her unique restorative fitness story.
We strategized the possibilities for her new website and helped her to get clarity on who her target market is and how she is going to engage them.
This wasn't clear at first because Sue is expert in varied fitness disciplines. But through the Power Plan, we realized that what Sue is most passionate about is helping active people over the age of 50 who are dealing with chronic pain, over-use injuries or the fatigue that can come from age-related hormonal shifts.
We focused on the specific body problems this core audience has and Sue's approach to relieving and solving them. We used varied CTA's (calls to action), directing her visitors to her yoga, Yamuna ball rolling and foot fitness services as well as her online store.
We shot and edited product photos, set up an e commerce store, and trained her how to manage it. We developed her branding with design elements such as typography, color, custom icons, video thumbnails, and brand photography. We edited her existing photography, organized her Youtube channel and created custom thumbnails with descriptions. Lastly, we set up her email marketing.
Yogasu Fitness finally has a professional website that tells her fitness journey, is ready to market and sell her products and restorative fitness services and finally, attract subscribers to her youtube channel to grow her online tribe.
LOGO DESIGN
Yogasu Fitness had a designed logo. We kept the illustrative icon and typeset her business name with her brand font maintaining the consistencies with typography and color.
COLOR PALETTE & TYPOGRAPHY
For Yogasu Fitness we used a rich golden ochre, charcoal gray, deep teal, and medium gray green. The rich golden ochre is associated with divinity and conveys warmth and positivity. The charcoal gray is neutral and communicates balance, wisdom and strength. The deep teal and gray green symbolizes compassion and clarity.
We chose Freight Sans Pro, a sans serif humanist typeface suitable for large headlines and body text. It's available in many weights and styles making it ideal for a brand font. This font gives a warm and friendly appearance, perfect for communications and marketing content.
E-COMMERCE & PHOTOGRAPHY
Yogasu Fitness is a reseller of Yamuna® balls, the restorative fitness gear she uses in her classes and videos. She previously sold the gear in person and wanted to offer them in an online store.
We shot and edited her product photography, set up her online store, and trained Sue on how to use and manage it.
之前 & 后
Move handle left (after) to right (before).